​

Wow! We have come such a long way. We had our presentation and it went extremely well. Kiki went to Paige's house on Wednesday (May 10th) to practice the presentation. Kiki slept at Paige's home and they planned on cutting the fruit in the morning, which allowed it to be as fresh as possible. We finished writing the book this week, and while it took a very long time, the finished product looked great. We used materials from the Create Studio to add finishing touches. The three of us practiced the presentation and were finally ready to present to the kids!

When we first arrived at the Center for Early Education, we went to a kindergarten class to meet to the students. We introduced ourselves, and did a greeting activity with them. We later went outside to start presenting. We presented to them during their recess time, and the kids then came up to our table to watch our presentation. We started by talking to the kids about healthy foods, and what healthy means to them. We then read the book to them made the snacks with them. The kids seemed very intrigued and loved the book. They loved making the snacks, and even used so much creativity to make different animals out of the fruits and vegetables we provided. We sent a survey to the students parents asking a few questions about that their children thought of your presentation. The responses were very positive, and received great comments. We had such a memorable and experience with the children, and the three of us were extremely happy we were able to make a positive impact in the community.
Powered by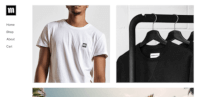 Create your own unique website with customizable templates.